Saved by the seam ripper
After a disastrous start with the famous Coffee Date Dress, I was hesitant to try another Burdastyle pattern. I say disastrous because everyone else seemed to be breezing through the pattern, but mine never came to life and it was chucked aside eventually. Hrmph.
I was staring at the lowest rack in my wardrobe where I keep my finds from weekend thriftings, and dug out a vintage frumpy dress-- it had a classic pussybow, long puffy sleeves, droopy elastic waist, was probably several sizes too large, and the skirt was reaching to my ankles. Yes so I'm short, kill me.
BUT the saving grace of the dress was the print. Oooh I have no idea whether they were birds or trees or birds on trees or some marijuana leaf but the print was fun! So heck, I decided to try another Burdastyle pattern-- ripped the dress apart and cut out the sections according to the new pattern. After many mistakes and ripping out seams with the seam ripper and sewing again and again, I finally finished a dress using
Miasu's Contour Bust pattern
. Yay!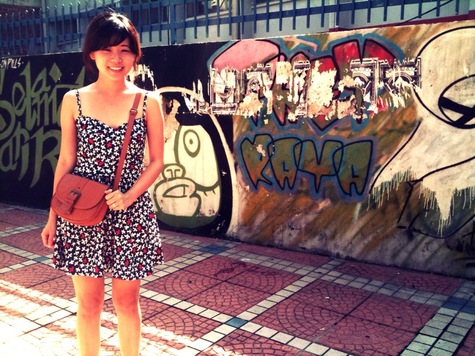 After finishing the
dress
, I spray painted my sneakers gold. I know it's not really logical but it was some kinda mad chain reaction.